We are thrilled to share our latest recognition as a Highly Recommended Law Firm in various practices areas including Corporate and M&A, Capital Markets and Dispute Resolution by Asialaw.  We are also ranked as Recommended Law Firm in Banking and Finance, Construction, Restructuring and Insolvency and Tax.
As a sector specialist, we are also recommended for the Consumer goods and services and Technology and Telecommunications sector.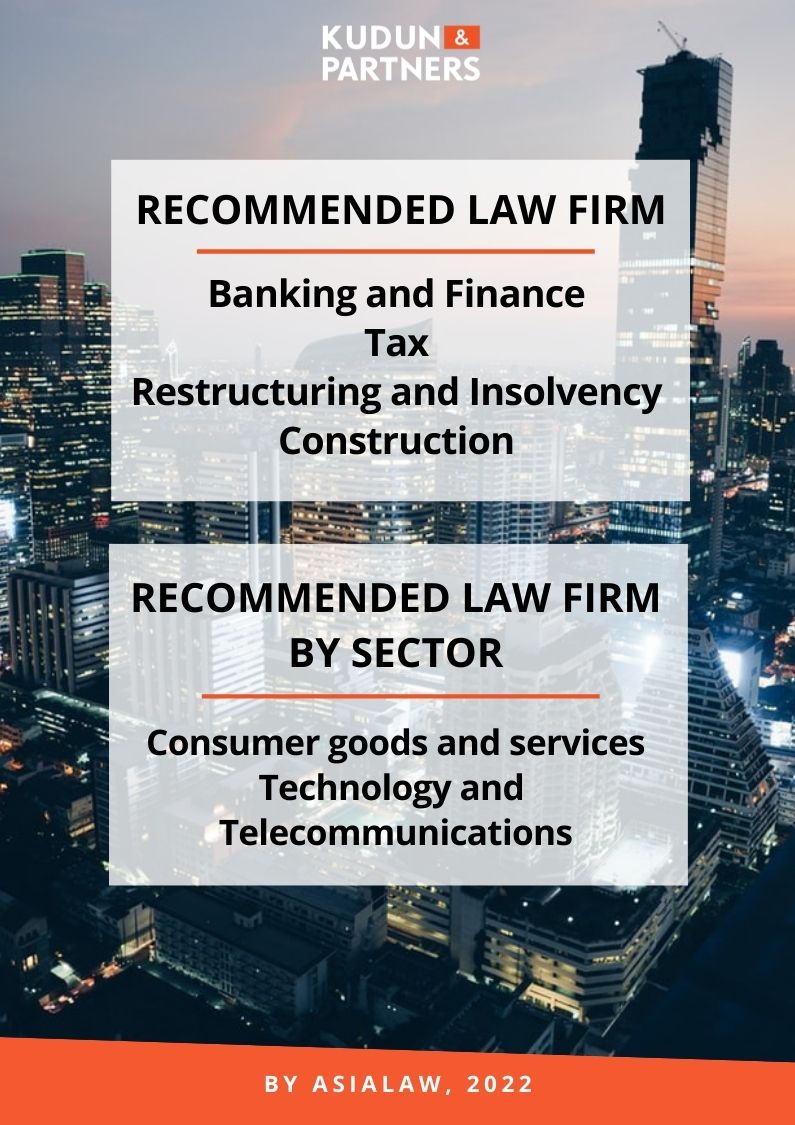 "Our sincere appreciation to the team at Asialaw, as well as our respectable clients and peers, who have placed their trust in us and, in return, have taken the time and effort to help us in getting us recognized each year.  We thank you for your unwavering support in getting us to where we are now and we will do our utmost to continue serving our clients to the best of our abilities. Thank you from us at Kudun and Partners," chirped Kudun Sukhumananda, Managing Partner of the firm.
We wish to thank all clients who took their time to provide positive feedback on our firm.
"It understood client's needs well and delivered fast responses. The lawyers are experienced and reliable, and offer an excellent quality of service for both legal and market knowledge." – Banking and finance
"The team is active, energetic and highly responsive. It is coming up really fast and getting great recognition in the market as a one-stop service provider." – Capital markets
"Kudun and Partners is detailed in its works and is very attentive to our requests. The lawyers displayed good professionalism and had good time management. We really appreciate the firm's hard work." – Corporate and M&A
"The team is very responsive. I appreciate the relationship support from the partner, who is able to quickly understand the commercial aspect of the transaction and support accordingly." – Corporate and M&A
"It is our go-to team in our expansion into the energy business, particularly to Vietnam. We like that it is flexible and highly responsive to our needs and it works as a team across different practice areas including tax. It always provides innovative solutions to our problems. It is very commercial and strategic, and always brings a lot of valuable advice to the table. Its in-depth expertise in the energy space is remarkable as it works with leading power companies and we trusted the firm to protect our interest." – Energy
"The lawyers have an excellent understanding of international investment fund requirements that is on par with the best international law firms" – Investment funds
"It is professional and excellent in problem solving." – Privacy and data protection
"The firm is the most trusted legal advisor to my company and it always provides professional legal opinions." – Private equity
"I appreciate its industry knowledge and familiarity with our internal requirements. The lawyers all have good work attitude and are very professional." – Real estate
"It is great with negotiation support and overall deal coordination." – Real estate